A 'Cease and Desist' Threat from the University is the Latest Attempt to Silence the Group
LOS ANGELES — The ACLU Foundation of Southern California and Palestine Legal today wrote to the University of California Los Angeles to strongly refute the school's claim that a bear logo used by a Palestinian student group is a violation of the Bruin Bear trademark.
The bear image used by the National Students for Justice in Palestine (NSJP) and Students for Justice in Palestine (SJP) at UCLA is featured in a poster advertising an upcoming conference. It does not remotely resemble the cartoonish Bruin symbol, sometimes shown carrying a football.
The original artwork of the student group depicts a bear in a sitting position, wearing a keffiyeh scarf that is a symbol of Palestinian solidarity. The playful bear is gazing up at a kite, a symbol of freedom and liberation, bearing the colors and design of the Palestinian flag flying alongside three doves symbolizing peace.
Indeed, the bear on the poster is a California grizzly. And as the letter from the ACLU SoCal and Palestine Legal points out, the grizzly is "the official state animal of California since 1953, which adorns the state flag of California."
On October 31, students organizing the conference received a legal threat letter from UCLA Vice Chancellor Michael Beck ordering them to "cease and desist" from using bear imagery. The letter threatened "claims" and "additional remedies," including cancellation of the conference.
"The University of California cannot claim exclusive rights to the concept of a bear," said Brendan Hamme, staff attorney for the ACLU SoCal. "The grizzly on the poster simply bears no resemblance to the UCLA Bruin."
Liz Jackson, attorney for Palestine Legal, commented: "UCLA can't use trademark law to stop SJP from supporting Palestinian freedom. That's the bare fact.
"It would be funny if it weren't so serious. SJP already faces death threats, a barrage of false accusations, and a documented years-long campaign at UCLA and elsewhere to suppress their speech rights."
Hamme added, "If the First Amendment means anything, it means that the government can't suppress speech because it opposes the viewpoint of the speaker."
The ACLU SoCal and Palestine Legal letter requests a response from UCLA by November 9, confirming that they will not be taking legal action against the students and asking them to create policies and practices to protect First Amendment rights.
In a statement from NSJP, Ayesha Khan said: "We are simply trying to bring together hundreds of passionate young people committed to equity and respect for human rights, as we have done for many years. I am saddened and appalled by UCLA administration's dismissal of continued harassment and abuse on social media and on their own campus, in an effort to appease other groups and institutions whose political viewpoints they favor."
See comparison of Bruin and SJP bears: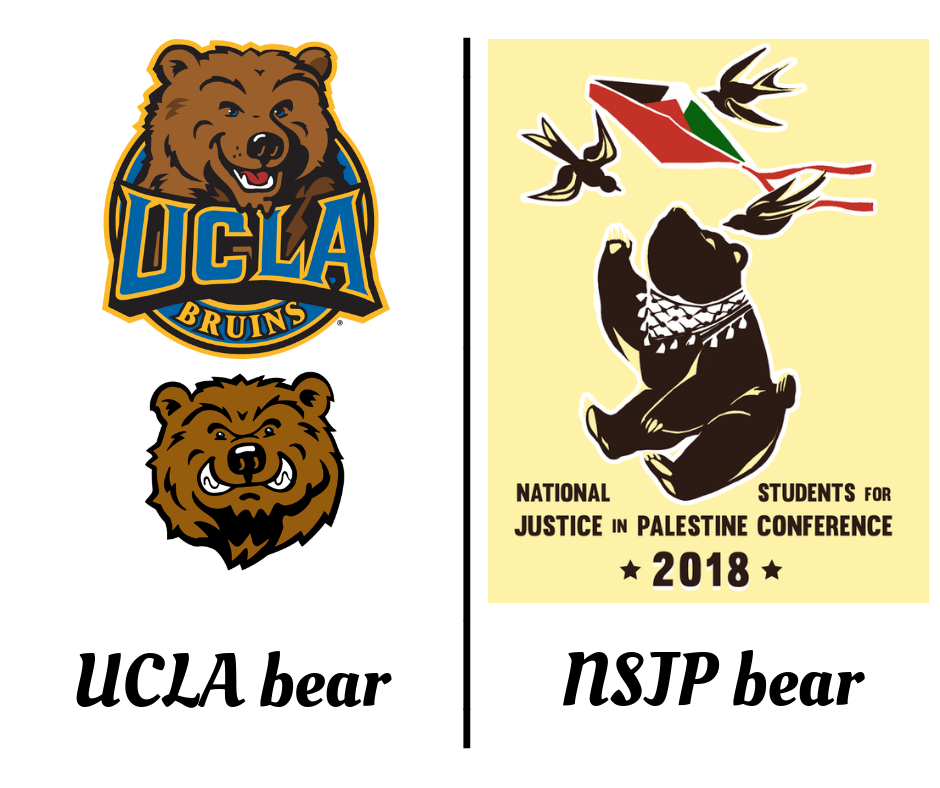 https://www.aclusocal.org/sites/default/files/bears_ucla_comparison.png
Read the full letter from Palestine Legal and the ACLU SoCal: https://www.aclusocal.org/sites/default/files/aclu_socal_ucla_bear_20181107_cease_desist_response.pdf
###