Just days after the election last November, we celebrated civil liberties champions and leaders from entertainment, politics and civil rights at our annual Bill of Rights Dinner. Among our honorees were Gold Star family activists Khizr and Ghazala Khan.
---
---
Since his memorable speech last summer in which he called out then-candidate Donald Trump for unconstitutional campaign promises, Mr. Khan has tirelessly traveled the country doing what he has done for years: teaching communities, especially young people, about the relevance of the Constitution in their lives and the powers and rights it affords us all.
The day after our annual dinner, I had the privilege to chat with Mr. Khan about his life after the iconic moment, his favorite part of the Bill of Rights and his reflections on the election and what's to come.
Watch our conversation below and find out what he has etched on the back page of his pocket Constitution. Mr. Khan — in his word and gesture — is nothing short of inspiring: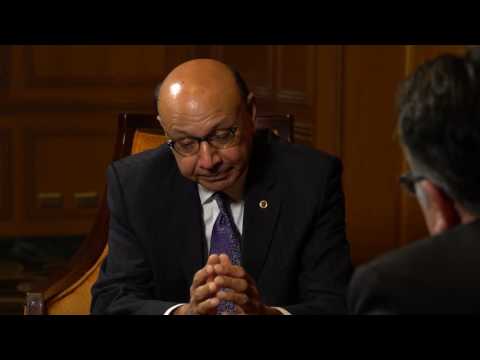 ---
---