Los Angeles — Ahilan Arulanantham, director of advocacy and legal director of the ACLU of Southern California (ACLU SoCal), is the recipient of a prestigious 2016 MacArthur Foundation "genius" grant for his legal and advocacy efforts to protect immigrants' rights. The prizes are awarded annually by the John D. and Catherine T. MacArthur Foundation to individuals who demonstrate exceptional creativity and potential for future contributions to their fields.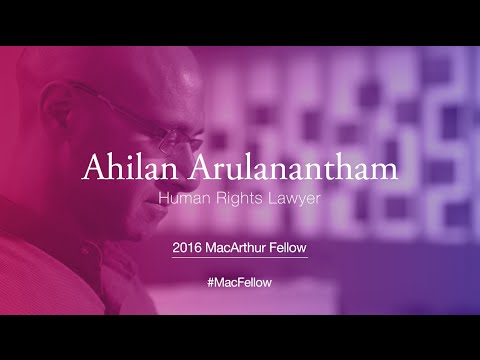 Privacy statement. This embed will serve content from youtube.com.
Arulanantham, who also serves as a senior staff attorney with the ACLU's national Immigrants' Rights Project, is a renowned human rights lawyer who is working to secure the right to counsel for children facing deportation proceedings and is the lead attorney on Jennings v. Rodriguez, a U.S. Supreme Court case being argued this term on whether detained immigrants have a right to bond hearings. The MacArthur Fellowship recognizes his leadership role in securing due process rights for immigrants facing deportation.
"What we are trying to do is harmonize the immigration law with our constitutional law and basic human rights principles," Arulanantham said. "The protections that we afford to immigrants facing deportation are stuck in the 19th Century. People have no right to a lawyer. You can be imprisoned without trial for years in the immigration system. Most people would say these rules are unfair."
During his tenure at the ACLU SoCal and in his work with the Immigrants' Rights Project, Arulanantham has successfully litigated several other landmark cases expanding immigrant detainees' access to legal representation and limiting the government's power to detain them indefinitely. Those cases include Nadarajah v. Gonzales, the first Ninth Circuit case establishing limits on the government's power to detain immigrants as national security threats, and Franco-Gonzalez v. Holder, the first case to establish a right to appointed legal representation for any group of immigrants facing deportation, which required the federal government to provide legal representation to immigrants with serious mental disorders.
"We are extremely proud of Ahilan, the trailblazing work he has led to make our immigration laws live up to our nation's ideals, and the resulting impact he has had on the lives of those caught up in our immigration system," said Hector Villagra, executive director of the ACLU SoCal.
Find more information about Arulanantham's immigrants' rights work: https://www.macfound.org/fellows/953/