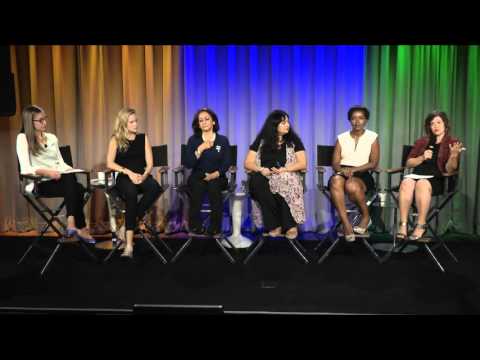 I don't sing although I do admittedly hum without realizing it . . .
a lot
. So I took a huge step out of my comfort zone in early September when I joined a global sing-along and voice lesson for gender equality.
Make My Voice Matter, the sing-along, called attention to the many forms of gender inequality that persist around the globe and highlighted stories of female empowerment that give women and girls tools to find their own voices and power.
Broadcast around the world from Google's Silicon Valley campus, Make My Voice Matter also raised funds for organizations including the ACLU of Southern California that advocate for gender equity and a society where women are treated fairly, given equal opportunity, are safe and have basic needs met.
The sing-along, began with legendary voice coach Gary Catona leading a voice lesson, taking the crowd and the online audience through a series of his signature vocal exercises designed to massively strengthen and shape the tone and power of a voice.
Then singer and songwriter Aubrey Logan, in her thrilling, rich voice, premiered a beautiful song written specifically for My Voice Matters. Watch the video of the voice lesson and song.
The song is available to download on iTunes and Google Play. There are even shirts if you want to be fashionable. Net proceeds benefit ACLU SoCal, UN Women and the Women and Children.
The event's final part was a panel discussion, moderated by Google.org's Brigitte Gosselink, that brought together women from very different backgrounds and perspectives. It provided women and girls with positive, practical advice for how to live in a happier, more empowered way, no matter one's circumstances. Listen to the conversation.
The women on stage with me were truly inspiring:
Aimee Mullins, for instance, is a brilliant athlete, advocate, model and actress who spoke about confidence, body image, and the limits of labels we place on one another. She was the first amputee to compete in the NCAA and break world records in the sprint and long jump and daringly began her fashion career modeling for Alexander McQueen in work-of-art prosthetic legs.
Arlette Nkurayija, an awe-inspiring attorney, is president of the Women and Children's Embassy Foundation, and a Rwandan genocide survivor. She spoke of losing her family at a young age and how to survive traumatic experiences and transform them into personal drive.
Hala Kazim, is a radiant and powerful businesswoman and television personality based in Abu-Dhabi who now runs an organization called "Journey Through Change," empowering women and providing them with support, advice and practical help to transform their daily lives and level of happiness. In 2013 she was named Best Businesswoman in the UAE.
Oisika Chakrabarti, a savvy and passionate advocate and senior communications and media specialist for UN Women, gave a commanding and informative talk on the most pressing issues women experience around the globe, including leadership gaps, lack of access to basic supportive services, and violence.
I was honored to have the opportunity to speak about some of the most pressing ways gender inequality persists in the United States:
Structural barriers, stereotypes, and unconscious bias continue to hold women back in the workplace and translate into women holding less economic power. Systemic pay inequity remains an intractable barrier as is the lack of support for working parents such as no paid family leave and, for many, no paid sick days, living wage, and affordable childcare.
Exclusion of women from too many of the most valuable work sectors, particularly in positions of real power in such industries as film, television and tech. Movies and TV shows are overwhelming made by men, telling male stories, depicting women through a male lens and reinforcing stereotypes.
Far too few women in political office or management positions in proportion to their number in the population clearly illustrates the leadership gap.
Women still endure an increased risk of gender-based violence and harassment by intimate partners and law enforcement. Over 1 million women are sexually assaulted each year, and more than a third of women are subjected to rape, physical violence and/or stalking by an intimate partner in their lifetime.
At alarming rates women are losing the ability to make personal decisions about whether and when to have a child. More and more women now live in areas with no access to abortion, contraception or general health care clinics.
Young girls are still subjected to an education littered with gender stereotypes.
Women are disproportionately locked up for low-level, non-violent poverty offenses as compared to men. It is shameful that 1.3 million children in the U.S. have incarcerated mothers.
So listen to the discussion and download a beautiful song (iTunes or Google Play)!
Melissa Goodman is director of the LGBTQ, Gender Equity, Reproductive Justice Project at the ACLU of Southern California.