One year ago, the ACLU SoCal unveiled a monumental mural on the facade of its Los Angeles headquarters in Westlake. "The Care We Create" is a testament to generations of activists, organizers, and advocates who have fought and continue to fight for justice across Southern California. As the ACLU SoCal's inaugural artist-in-residence, I had the task of transforming the building into a beacon of hope and collective call to action through design, drawing, color, and composition. 
I have long been interested in the intersection of art and social justice and I've especially been inspired by the iconic Los Angeles murals of artists like Barbara Carrasco, Yreina Cervantez, Noni Olabisi, Tony Osumi, and Barbara Kruger. It was a great honor to work in this tradition of mural-making that claims civic space to lift up the community and demand change and justice. Like any artist, I ran into some challenges but fortunately, all were resolved thanks to working with community partners and a community of artists.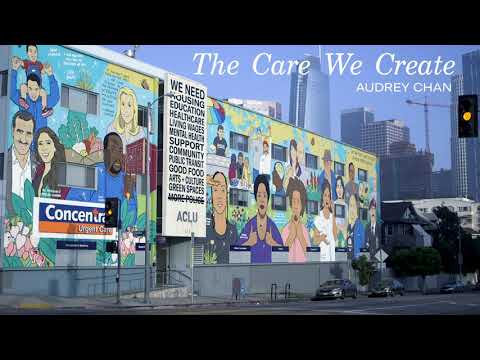 Creating a mural during a global pandemic
Due to the pandemic, most of our planning for the mural had to be done remotely. I developed the mural's design digitally using an iPad Pro, Apple Pencil, Procreate app, and Adobe Illustrator. By creating the composition as a vector-based artwork, it could be readily scaled up, in this case to the size of a three-story building. I had to work from precise measurements of the building to make sure the design would translate seamlessly to the architectural scale and surface elements.
Designing a mural in the middle of downtown Los Angeles
The mural's imagery on the 5,500 square foot facade weaves in and around a grid-like arrangement of office windows and a vertical marble slab over the building's entrance. The width of the building is anchored by a landscape inspired by the rolling green spaces of Kenneth Hahn State Recreation Center, a magnificent public park I often visit which is a treasured space of joy for communities of color. Across this landscape, I placed portraits of people from the ACLU SoCal's 100-year history who fought for change and also current organizers and movement leaders. I used a bright color palette to highlight the diversity of the mural's subjects and to bring a needed green space to this busy stretch of West 8th Street, just off of an exit of the 110 freeway. The marble slab above the main entrance became the building's protest sign, embodying many of the demands for community care made by protesters for racial justice. 
Working with community partners
The mural's bold and urgent demands for funding community care – not policing – were adapted from the People's Budget LA coalition, which included Black Lives Matter - Los Angeles, People's City Council, Ktown For All, and TransLatin@ Coalition. Organizers from the coalition generously collaborated with ACLU SoCal staff to brainstorm whose portraits would appear in the mural. The people represent issues including racial justice in policing and legal justice, immigrants' rights, LGBTQ+ rights, economic justice and housing, first amendment rights, students and students' rights. 
Finding a community of artists
We enlisted a talented and passionate painting and fabrication crew from the LA Art Collective and Wilson Cetina Group to bring the project to life. Led by master artist and fabricator, Eder Cetina, Juan "Gogo" Hernandez, David "Dense" Zajdman, Keefer "Keef" Butterworth, Fernando Mendoza, Dan Boer, and Frank "Kodak" Armstead worked for three weeks from dusk to dawn, high up on scissor lifts, painting each detail of the mural by hand using countless cans of exterior house paint. Before painting, they carefully transferred the mural's design onto the brick surface of the building using a paper pounce method (also used by Michelangelo for the Sistine Chapel), in which a to-scale paper "cartoon" was punched with holes to transfer the drawing outlines as an accurate guide for the painters. In the case of Eder's crew, they used black spray paint rather than the charcoal dust traditionally used in fresco painting to transfer the artwork.
I love the process of telling stories through symbols, and you can see allegorical details in the mural: 
 
Butterflies

The monarch butterflies symbolize migration and immigrants' rights. Southern California is home to thousands of immigrants and the ACLU SoCal fights for their right to stay, like formerly deported veteran Hector Barajas.
Dandelions

Dandelion plants are exceptional at proliferating, forming deep tap roots that when broken off can grow a new plant. In fact, a single plant can grow as many as 5,000 seeds. Dandelion plants proliferate throughout the mural as a metaphor for organizing, in that they send down deep roots, but also self-replicate and multiply.
Healing plants

I worked with artist Sandy Rodriguez to identify many of the healing plants native to Southern California. Some of the native plants seen in the mural include canaigre dock, used for skin wash to heal cuts and scrapes; chamomile, used to calm anxiety and sleeplessness; and, manzanita, used to treat colds and clear toxins. 
 

House keys

The keys in the hand of Theo Henderson and the hotel building behind him represent the ongoing fight for the rights of the unhoused and a call to take over hotels that were vacant during COVID-19 to get people housed. The ACLU SoCal is constantly working to defend the rights of unhoused people and calls for the California legislature to protect them under the law.
"Black Lives Cherish" in American Sign Language

Janaya Future Khan, Patrisse Cullors, and Mark-Anthony Johnson are signing "Black Lives Cherish" in American Sign Language in solidarity with members of the Black disabled community who are disproportionately targeted by police.
Libations

Dr. Melina Abdullah is pouring libations, a West African spiritual practice of honoring and calling upon the spirits of ancestors and those who have passed. Libations are poured at the beginning of every BLM-LA protest and action to honor past civil rights leaders and those who have died at the hands of police.
Produce box

The produce box represents mutual aid and food justice work of neighbors during the COVID-19 pandemic.
Street vendor making pupusas

Southern California is home to countless street vendors – oftentimes the only source of income for immigrants. Pupusas are a staple food to people from El Salvador, Guatemala, Honduras and other Central American countries.
Sunflower

A sunflower represents the late Mely Corado, who was killed by LAPD in 2018 while working as a manager at a Trader Joe's in the Los Angeles neighborhood of Silverlake. Sunflowers were Mely's favorite flower and are known for always facing the sun.
Since March 2021, the mural has served as a backdrop to BLM-LA's weekly rally to Fund Services Not Police and call for an End to Police Associations. It has been a dream to be part of making an artwork that can be mobilized by community organizers and amplifies the work they are doing in the streets. The mural faces the unmarked Los Angeles Police Protective League headquarters directly across the street. The contrast between the two buildings is like a battle of aesthetics in public space – on the one side you have justice and healing and growth, and on the other, a faceless force that perpetuates pain and injustice.
The resilient portraits in "The Care We Create" stand in vigil from morning to night, demanding justice, accountability, and an end to state violence now and into the future. We know what a better tomorrow looks like and we're not going to stop until we make it a reality for all.
---
About the Artist
Audrey Chan (b. 1982, Chicago, Illinois) is a Los Angeles-based artist and educator. Her research-based projects use drawing, painting, video, and public art to challenge dominant historical narratives through allegories of power, place, and identity. She received an MFA from California Institute of the Arts and a BA with Honors from Swarthmore College. She was commissioned by LA Metro to create a large-scale public artwork for the future Little Tokyo/Arts District Metro Station, opening in 2022. She was a Visiting Artist Faculty in the Program in Art at California Institute of the Arts and the inaugural artist-in-residence at the ACLU of Southern California.  
Artist Statement
"The Care We Create is about our collective future and is rooted in the powerful stories of people exercising their rights and demanding dignity and respect for their communities," said Audrey Chan. "As an artist, it has been an honor to work alongside the ACLU of Southern California and their community partners to uplift people fighting for a just society. My hope is that this mural will be a constant reminder that the work of challenging systems that perpetuate injustice is a profound expression of love and compassion."
---
Acknowledgments
Collaborating Partners: Black Lives Matter-Los Angeles, People's City Council, TransLatin@ Coalition, and Ktown for All
Art Consultant: Ana Iwataki
Fabricators/Painters: Eder Cetina, Juan "Gogo" Hernandez, David "Dense" Zajdman, Keefer "Keef" Butterworth, Fernando Mendoza, Dan Boer, and Frank "Kodak" Armstead of the LA Art Collective & Wilson Cetina Group 
Photographer: Elon Schoenholz
Land Acknowledgement
The ACLU of Southern California acknowledges Indigenous people as the original stewards of the lands on which we now live.  
We acknowledge our Los Angeles office's presence on the traditional, ancestral, and unceded territory of the Gabrielino-Tongva peoples. The collective work of those pictured in the mural The Care We Create (2020) designed by Audrey Chan, and of the ACLU of Southern California takes place across the ancestral lands of the Gabrieleno-Tongva, Chumash, Cahuilla, Tataviam, Serrano, Kitanemuk, Juaneño, and Luiseño peoples. We recognize them as the traditional caretakers of these lands, the legacy of violence, settlement, and displacement these people suffered and survived. We recognize the importance of reverting this common history, of which we are all a part, by engaging in meaningful indigenous justice work today and in the future. 
The mural is a testament to the power of coming together to fight for community healing and social justice. In the words of artist Audrey Chan, "The Care We Create is about our collective future and is rooted in the powerful stories of people exercising their rights and demanding dignity and respect for their communities." It is with this sentiment that we acknowledge Indigenous people and their efforts to uphold their sovereignty, stories, and identities. By committing ourselves to Indigenous justice, building authentic, mutual, and lasting relationships with tribes and Indigenous communities, we honor and stand with them as they work tirelessly toward justice and healing.