Throughout the summer, the ACLU of Southern California hosted a series of 'Brown Bag' lunch lectures led by attorneys, scholars, organizers and civic actors. This week, we are sharing highlights from these sessions in blog, video and Q&A format.
---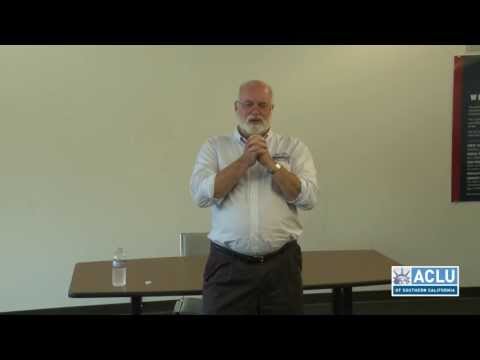 By playing this YouTube-hosted clip, YouTube will place a long-term cookie on your computer. View YouTube's privacy statement. View the ACLU's privacy statement.
Father Gregory J. Boyle founded Homeboy Industries after the LA riots in 1992, as a way to offer gang members an escape from the "demonizing suppression" they face from law enforcement and society.
Despite the criticism, hate mail and death threats, Father Boyle continues to "stand at the margins with the poor and the powerless, the voiceless, the easily despised and readily left out" and alongside "those whose burdens are more than they can bear and whose dignity has been denied."
Homeboy Industries is now one of the largest, if not
the
largest gang intervention, rehabilitation and reentry program in the world with four locations and more than 5,000 gang members walking through its doors each year. In his 'Brown Bag' session, he discusses the history of the organization, describes his moving experiences with individual gang members and delivers insight on issues that gang members face today.
In an era of the CalGang system, gang injunctions, and an "us versus them" attitude, Boyle leaves us with these words of wisdom: "No kinship, no justice. No kinship, no peace. If there is no undergirding kinship, if we believe that we don't belong to each other, justice won't happen."
Watch Fr. Boyle's complete presentation