The ACLU Foundation of Southern California is the court ordered monitor of the conditions of confinement and medical services within all Los Angeles County jail facilities. The Jails Project also monitors conditions in the Santa Barbara Sheriff's Office jails.
"Conditions" refers to beds, change of clothing, meals, gay/trans classification, outdoor recreation, showers, telephones, overcrowding, "fish" kits, commissary, protective custody, religious services, mail, allegations of violence and retaliation and other similar issues that may arise.
Through advocacy, public education and litigation, we work to ensure that a basic standard of care is provided to individuals who are incarcerated. We also work to decrease our community's overreliance on mass incarceration by advocating for alternatives to incarceration and discharge planning to help reduce recidivism.
---
Facts
---
Cases, Legislation, Campaigns
All relevant litigation
Rutherford v. Pitchess (1975): conditions of confinement
Robertson v. Block (1982): protection of the rights of gay prisoners
Johnson v. LA Sheriff's Department (2008): ADA compliance for inmates with mobility impairments
Rosas v. Baca (2012): elimination of systemic excessive use of force tactics on inmates
Douglas v. Cooley (2012): halt unlawful practice of suppressing exculpatory evidence in criminal trials by the District Attorney and the LA Sheriff's Department
Mannings v. LA Sheriff's Department (not filed) (2012): challenge policies that unfairly prevent Muslim inmates from attending group worship
Campaigns
Prison Rape Elimination Act (PREA) compliance advocacy work with LASD, LAPD and SBSO (2016)
Doula program (in progress)
Lactation program (February 2016)
LA Sheriff Department's Gender Responsive Advisory Board (2015-Present)
Santa Barbara Sheriff's Office's Community Corrections Input Group (2015-Present)
Creation of a pregnant inmate module (December 2014)
100 Days (2014)
LA Police Department's Civilian Police Jail Advisory Board (2012-present)
Reports
---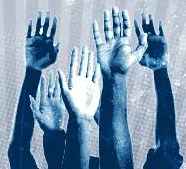 On behalf of an inmate regarding quality of life, jails services, or inmate abuse.
World's LargestThe LA County jail system is the largest in the world
17,000There is an average of 17,000 individuals who are incarcerated in the LA County jails, of which about 2,000 are women
53%53% of the inmate population are pre-trial, those who are awaiting trial or sentencing
October 22, 2014

October 31, 2013

October 26, 2012
July 1, 2012

April 21, 2005

April 19, 2005