We are taking our Gala online!
Please join us as we celebrate ACLU SoCal's year's worth of successes and our plans for the work ahead.
This Virtual Gala will be an entertaining 50 minute mix of performances, celebrity guest appearances, and surprises.
We will be announcing our participants soon – and updating this page – so check back.
Sponsor packages are available now. Individual tickets will be available at a later date.
Your support directly funds our work on racial justice, voting, women's rights and reproductive freedom, LGBTQ+ issues, immigration, education, privacy and so much more across our region, across our state, and across our country.
Purchase Sponsor Packages
›› I would like my purchase to support the ACLU Foundation of Southern California's litigation work.
This purchase is tax-deductible.
›› I would like my purchase to support the ACLU of Southern California's policy advocacy and lobbying work.
This purchase is not tax-deductible for federal income tax purposes, but may be deductible as a trade or business expense.
Thank you to those who joined us at last year's gala where we honored remarkable activists Judy Balaban, Don Cheadle, Justin Tranter, and Dr. Christine Blasey Ford for their outstanding work supporting civil liberties and social justice. Presenters and performers included Selena Gomez, Chrissy Metz, Regina Hall, Judd Apatow, and Bob Balaban.
Relive the magical evening by watching the full event! Click on the video below.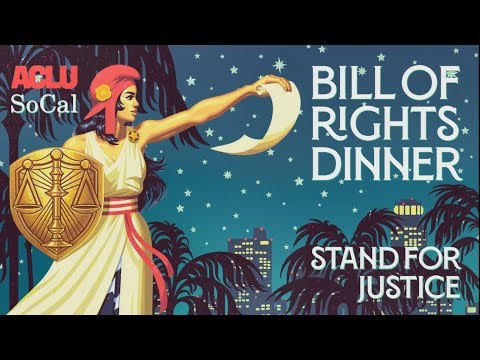 2018's sold-out gala honored Kenya Barris, Eva Longoria Baston, Tarana Burke, Alyssa Milano, Rita Moreno, and Constance Wu. They were presented awards by (respectively) Laurence J. Fishburne, America Ferrera, the Honorable Eric Garcetti, Norman Lear, and Bryan Fuller. Jennifer Hudson wowed the room with her performance of Diane Warren's Oscar-nominated song "I'll Fight."